MTI Film's Remote Data Center empowering TV post pipelines
Posted by MTI Film on October 13, 2022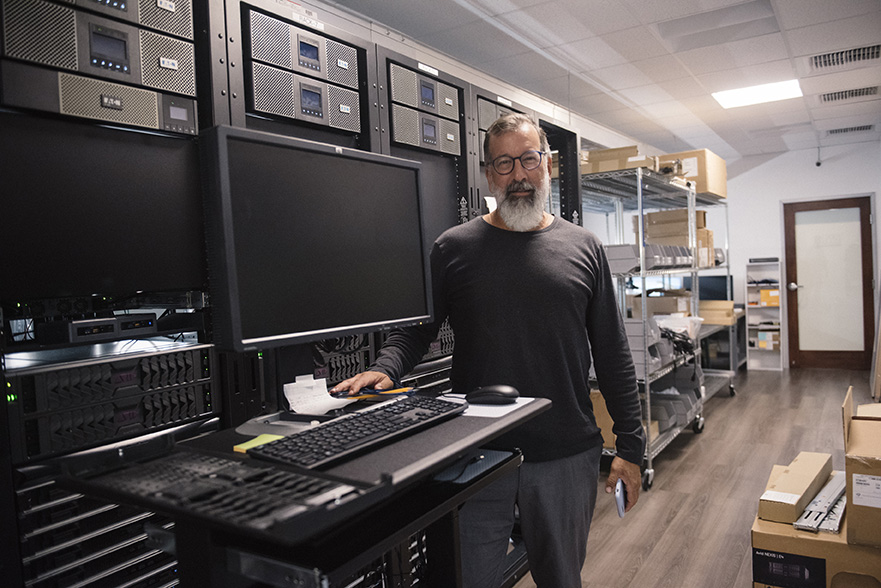 HOLLYWOOD — When the pandemic struck in 2020, television editors were forced to leave traditional office environments and scramble to find a way to work from home. Now, with the threat of COVID-19 receding, many are not going back. A lot of editors like the convenience of working on systems set up in dens or extra bedrooms while collaborating via high-speed networks with other editors, assistants and production staff. Remote work frees editors from long commutes, lends flexibility to work routines and gives them more time with their families.
Photo: Production manager Jeff Kaye in MTI's RDC.
MTI Film (www.mtifilm.com) was among the first companies to support television editors working remotely from home. Its Remote Data Center, launched in mid-2020, enables editors to cut shows on virtual desktops linked to Avid editing systems and robust storage technology located in Hollywood. Editors and their assistants can accomplish any task from home that they could in an office environment while connected in realtime with other members of the crew.
The Remote Data Center has proven to be more than a passing pandemic fancy. Even as Hollywood has largely returned to "normal," use of the facility continues to grow.
"We have more than 100 systems in the field," says production manager Jeff Kaye. "We're supporting 16 shows, including several returning from last season. Producers who've gone onto new shows have requested our service. Editors are asking for us too."
Some editing teams have gone fully remote while others have adopted hybrid workflows. Editors do much of their work from home but go to the office for critical creative sessions.
"Some productions want their editors back in the office, at least part-time," explains MTI Film managing director Barbara Marshall. "We support them by setting up virtual systems in both places, all feeding off the same NEXIS. If editors need to collaborate in person, they can, but on days when they'd rather work from home, they can do that too."
The Remote Data Center is continuously evolving its infrastructure to incorporate new technologies and respond to feedback from users. It works on an ongoing basis with Parsec, developer of the desktop capturing application that underlies its remote workflow, to implement new features requested by editors. Included with every system is Cortex, MTI's utility software that speeds up transcodes and VFX pulls, saving hours of assistant editors' time. Additionally, MTI now offers Sohonet's ClearView Flex, which allows directors, producers and other stakeholders to review media on tablets, phones and other devices via a basic internet connection. Other recent additions include 24/7 engineering support and 3-screen editing setups. It has built out its support team, including systems engineers Frank Campos and Ofer Raveh, and its newest arrival, junior tech Omari Vinson.
"We accommodate productions that have specific needs, such as enhanced audio packages," notes senior engineer Guthrie Demetrios. He adds that the facility provides virtual systems to editors who want to work while traveling for business or on vacation, with support extending across the United States and Canada. In one recent instance, the Remote Data Center supported an editor working in Ireland.
The facility's responsiveness has won it a loyal following. ACE award-winning editor Shannon Baker Davis and assistant editor Isaiah Smith have relied on the Remote Data Center for several shows including American Crime Stories and, currently, the Disney Movie Prom Pact.
"I'm loving working from home and having a vendor that is reliable, innovative, attentive and always able to figure out tech issues," says Baker Davis. "They have found a way to integrate live viewing for directors and producers and made it super easy. I'm amazed every time a feature gets added!"
"The support team is fast, friendly and very helpful," agrees Smith. "I prefer Macs, but I have grown to love their Windows-based system with its optional Mac-oriented keyboard. The system is easy to use and rarely has hiccups, and the remote software, Parsec, is phenomenal. With just a few clicks, I can jump onto my editor's computer to help with something or use it as an additional workstation. Plus, as an assistant editor, MTI's Cortex software literally cuts my output time in half."
The Remote Data Center's biggest challenge is to accommodate the influx of new users.
"We are committed to not growing too quickly," insists Kaye. "We don't want to become so big that we are not providing the high-level of performance and service that shows expect from us. We will continue to expand, but we will do so strategically and well."